Stump Grinding | Stump Removal
When a tree is removed the stump is left cut close to the ground unless other arrangements are made. When stump removal is required for either aesthetic reasons, or a desire to replant in the same location, Jimmy's Tree Service is well-equipped to handle that service. Stump removal can be difficult and removal options include stump grinding using specialized equipment or digging the stump out of the ground by hand. Stump grinding performed by a professional is the safest method of stump removal.
STUMP REMOVAL EQUIPMENT
From our large Carlton Diesel Stump Grinder to our smaller Vermeer Stump Grinder to our hand-held shovels, we have the suitable equipment for your stump grinding or stump removal needs. If we can't get the stump grinder to the stump's location because access is limited we have the option to dig out the stump and remove it to the landfill or recycle it for decoration!
UNDERGROUND UTILITIES LOCATES
Homeowners or property managers will need to call for an Underground Utilities Locate before a stump is ground or removed to prevent interruptions in services. If you are in Florida call 811, or if you are out of state call 1-800-432-4770 for the locate. In the event underground damage is incurred while stump grinding Jimmy's Tree Service cannot be held liable for such damage.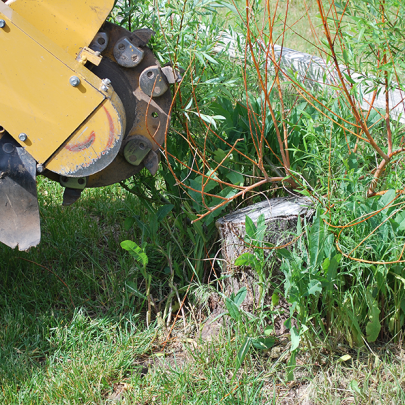 Please call us at 772-569-4436 for a free onsite estimate for your stump removal needs.