Professional Mangrove Trimming (PMT)
We are Professional Mangrove Trimmers!
Mangroves are tropical plants that are adapted to loose, wet soils, salt water, and being periodically submerged by tides. We are designated as Professional Mangrove Trimmers by the State of Florida. As PMT's we are licensed to trim mangroves, so you can feel secure that all Florida rules and regulations are followed when trimming occurs.
Here are a few additional facts about Mangroves:
There are more than 50 species of mangroves found throughout the world. Three species of mangroves are native to Florida: Red mangrove (Rhizophora mangle), Black mangrove (Avicennia germinans) and White mangrove (Laguncularia racemosa).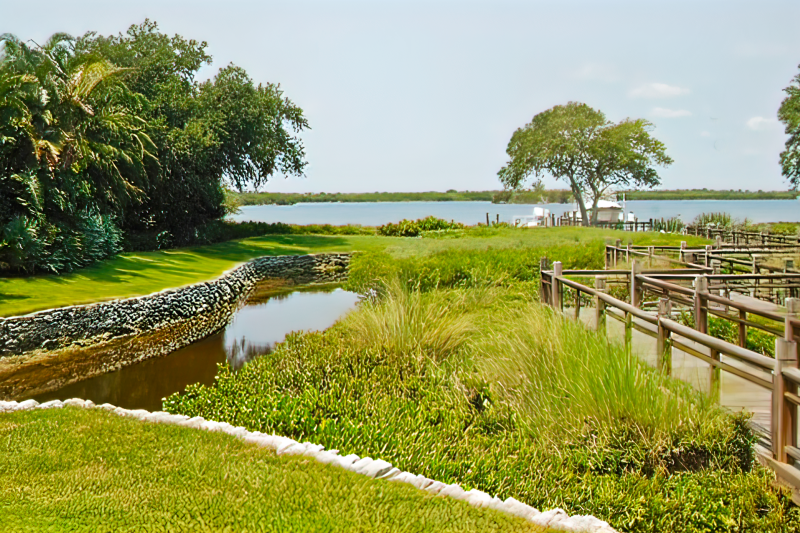 Four major factors appear to limit the distribution of mangroves: climate, salt water, tidal fluctuation and soil type.
Mangroves trap and cycle various organic materials, chemical elements, and important nutrients in the coastal ecosystem.
Mangroves provide one of the basic food chain resources for marine organisms.
Mangroves provide physical habitat and nursery grounds for a wide variety of marine organisms, many of which have important recreational or commercial value.
Mangroves serve as roosting and nesting sites for many of our birds.
Mangroves serve as storm buffers by reducing wind and wave action in shallow shoreline areas.
Mangroves assist in protecting water quality and clarity by filtering runoff and trapping sediments and debris from adjacent uplands.
Through a combination of the above functions, mangroves contribute significantly to the economy of many coastal counties of Florida and the State of Florida.
For mangrove removal information and permits for Indian River and St. Lucie Counties contact:
Southeast District - Office covers seven counties: Miami-Dade, Broward, Palm Beach, Martin, St. Lucie, Indian River, and Okeechobee
3301 Gun Club Rd
MSC 7210-1
West Palm Beach, FL 33406
For mangrove removal information and permits for Brevard County contact:
Central District - Office covers eight counties: Brevard, Lake, Marion, Seminole, Sumter, Orange, Osceola, and Volusia Counties
3319 Maguire Blvd, Suite 232
Orlando, Florida 32803-3767
For more information click the link below:
Mangrove Trimming Guideline for Homeowners